Master Cylinder (Brakes)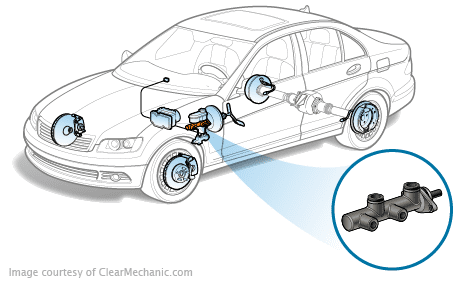 Buy a used or recycled master cylinder that can restore factory braking performance and save money.
Master cylinder for your brakes converts the mechanical force of you pushing the brake pedal into hydraulic pressure using a piston and cylinder full of hydraulic fluid. Then it transmits the force to your brake calipers or drums hydraulically to stop the car.
You might need to replace much of your brake fluid and thoroughly bleed and vent the system during replacement work. It would be best to look at the brake booster, brake lines, and vacuum lines supplying the brake booster. 
Buying the used part is tricky. www.txt4parts.com  provides an easy way to compare prices, communicate with junkyards about the part fitment before making a purchase online. Your used part buying experience will be easy and hassle-free from local junkyards.
Tech Specification
Professional replacement of the master cylinder typically costs around $500
It takes the mechanic shop about 1.5 hours to replace the master cylinder
Doing the work yourself using recycled parts may save you over $400